Drupal 7 FAQ
Want a question answered that's not covered here?
Contact us directly - drupalsupport@calpoly.edu.
How do I get access to a Drupal site?
The site administrator has to create an account for you to log into a Drupal site. If you don't know who that is on your site, you can ask drupalsupport@calpoly.edu, and we'll put you in touch with the correct site admin.
Your site admin can refer to our User Management Guide if they aren't sure how to make an account for you.
If you get an error message when you try to log in, your site admin can fix the problem by following the instructions at the bottom of that User Management guide.
How do I log in to my Drupal 7 site? 
While it's on the staging server, use sitename-stage.calpoly.edu/user to log in. After your site goes live, remove "-stage" from the URL. Unless your site administrator has configured it otherwise, click the Login button below the username and password boxes to take you to the Portal login screen. 
Why do I get an error message when I try to log in?
That happens when your account was created incorrectly, and can be fixed by your site administrator following the instructions at the bottom of that User Management guide.
How do I get a new site? 
Request a new site by filling out this brief request form. Sites are free and come with self service documentation and technical support is available by emailing drupalsupport@calpoly.edu.
How do I update my site search code?
A site admin can go to Appearance and then select Settings under the Cal Poly Responsive theme. You'll look for the line of code below, and change the highlighted URL to match your site's address:
<input type="hidden" name="sitesearch" value="departmentURL.calpoly.edu" />
I want to delete a page, but first need to make sure no one is linking to it. 
To see if pages on my own site link to this page, go to Manage My Site, then Page Links, and in the Link URL Filter box, type in the page URL, then Apply.
To see if sites other than your own are pointing to that page, go to http://cpsearch.calpoly.edu/ and click Advanced Search. At the bottom of that page, in the Page-Specific Search box, paste in the URL and hit Search. Then you can send a note to other site owners and ask them to update their links. 
Remember, it's always a good idea to check the broken link report after removing pages, just to be safe. Go to Manage My Site and click Broken links. 
I saved my changes but nothing happened
This is usually caused by one of two things:
You saved your changes as a Draft, but did not Publish them yet
Drupal's cache hasn't updated yet. The cache updates automatically, but it may take up to an hour for your changes to appear publicly.
I added a page to my menu but it doesn't appear
Make sure the page is Published. Unpublished Drafts will not appear in any menu until they're set to Published. 
How do I search for things in my site? 
Click on Manage My Site for several ways to search through your content. Use the Search Form box to search for content terms. You can also click on the Content tab and filter by Content Type. 
How do I make links open in a new window? 
Double click on the links to open the link dialog box. Click the Target tab, then select New Window (_blank).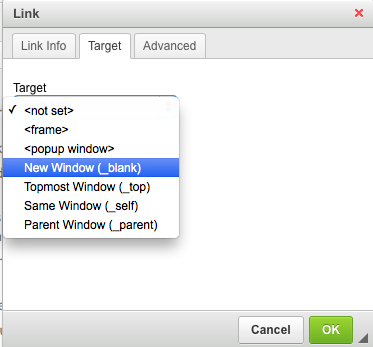 Links from the main Cal Poly home page
If the main Cal Poly home page has outdated (or no) information for your website or department, send an email to Marketing and Communications to update it. You should check the A-Z index periodically, or if your department has changed names, to make sure it's pointing to the correct website. Marketing and Communications also maintains the University's Google Keyword list, so please contact them if you need updates.
I'm having a hard time navigating outside of a template I inserted
The most surefire way to navigate in and out of templates you might be using in CKEditor is to utilize the Source view and make sure you start adding new content outside of the template's code.
If you're not familiar with code, it can help to add several extra returns before adding a template, and then inserting the template in the middle of those returns. This leaves some blank space before and after that you can click into to add other content.
Related Content